SafePark Franchise Information
SafePark is a leading authority in playground safety; providing initial audits, periodic inspections, maintenance and repair. SafePark understands that there are no safe playgrounds, only safer playgrounds. SafePark can help reduce the chance of an incident and help limit liability and potential litigation. SafePark provides easy to understand reports for safety audits, periodic inspections, safety surfacing impact attenuation testing, ADA and preventative maintenance programs.               
Playground injuries are the leading cause of injury to children in childcare and to children ages 5-14 in schools. In 2003 more 208,100 children 12 and under were treated in hospital emergency rooms at an estimated annual cost of $6.8 billion. It is estimated that one third of playground equipment related deaths and 75% of playground equipment related injuries occur on public playgrounds. Approximately 70% of playground equipment related injuries are caused by falls to the surfacing. The majority of these injuries take place on public playgrounds, including schools, childcare and park playgrounds. These statistics speak volumes regarding the need for SafePark Services.
SafePark concept has a process to facilitate the systems that most efficiently deliver these services to local HOAs and municipalities. The business model has been essentially perfected over the years and is in a growing market that requires the capability and bandwidth of new partners that can offer the same suite of services in different regions of the country. The growth of this market segment is driven by new and more stringent safety standards. These regulations are the standard of care that all public playgrounds are held to and the owners are responsible to uphold.
Support & Training
When you join the SafePark team as a franchise owner, you will receive outstanding support in a number of different exciting areas:
Operational Support
Marketing Support
Purchasing Support
Accounting and Legal Support
Ongoing Research and Development
Training Includes:
5 days of training at the SafePark HQ in Laguna Hills, California or at a location designated by the Franchisor beginning approximately 4 weeks before the franchise is scheduled to open for business
Up to 3 days of training at your location to get your business started
1 session per year, which can be up to 2 days of refresher/update training or meetings in each session
Ongoing support and guidance in building and operating your business
Territories
When you join the SafePark team you have the choice of a new start-up business or you can convert your current playground safety company to be under the SafePark umbrella. When you join the SafePark team you will be given an exclusive territory of ideally, 500,000-1,000,000 in population to develop. SafePark is always looking for expansion opportunities in new markets!
Cost
The fee for one franchise is $25,000. Minimal start-up costs can be as low as $48,800 depending upon a number of factors. Please see the chart below.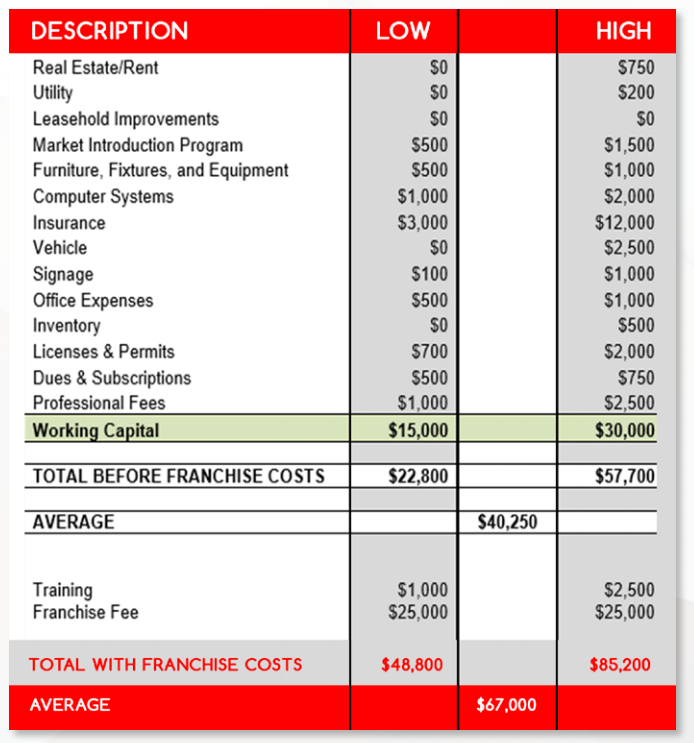 Qualifications
Qualifications recommended for potential franchise owners:
Strong Sales and Client Service Abilities
Good with Timing and Schedule Management
High Personal Standards
Strong Sense of Integrity in Corporate, Community, and Client Relationships
Strong Desire and Dedication to Provide Excellent Service
Targeted experiences for potential franchise owners may include:
Recreation, Leisure or Hospitality Industry Experience
Prior Business or Franchise Owner and/or Marketing Experience
Ex or Retired Military, Peace Officers or Firefighters
Entrepreneurial Team who wants to start their own business
What are the Next Steps?
Step 1: Fill out the Evaluation Form
Step 2: Send the Evaluation Form to SafePark@Hotmail.Com
Step 3: Arrange for an Initial Phone Consultation to "Meet the Team"
Step 4: Arrange for a Discovery Day
Step 5: Review Franchise Agreement
Step 6: Join the SafePark Team!
Contact Us Today
Jamey Clark
949-295-9720
SafePark@Hotmail.Com
SafePark.Com
---
Disclaimer
THIS WEB SITE AND THE FRANCHISE SALES INFORMATION ON THIS SITE DO NOT CONSTITUTE AN OFFER TO SELL A FRANCHISE OR LICENSE. THE OFFER OF A FRANCHISE CAN ONLY BE MADE THROUGH THE DELIVERY OF A FRANCHISE DISCLOSURE DOCUMENT. CERTAIN STATES REQUIRE THAT WE REGISTER THE FRANCHISE DISCLOSURE DOCUMENT IN THOSE STATES. THE COMMUNICATIONS ON THIS WEB SITE ARE NOT DIRECTED BY US TO THE RESIDENTS OF ANY OF THOSE STATES. MOREOVER, WE WILL NOT OFFER OR SELL FRANCHISES IN THOSE STATES UNTIL WE HAVE REGISTERED THE FRANCHISE (OR OBTAINED AN APPLICABLE EXEMPTION FROM REGISTRATION) AND DELIVERED THE FRANCHISE DISCLOSURE DOCUMENT TO THE PROSPECTIVE FRANCHISEE IN COMPLIANCE WITH APPLICABLE LAW.
Currently, the following states regulate the offer and sale of franchises: California, Hawaii, Illinois, Indiana, Maryland, Michigan, Minnesota, New York, North Dakota, Oregon, Rhode Island, South Dakota, Virginia, Washington, and Wisconsin. If you are a resident of one of these states or countries, we will not offer you a franchise unless and until we have complied with applicable pre-sale registration and disclosure requirements in your jurisdiction.